Worried About College Costs? Look For Merit Aid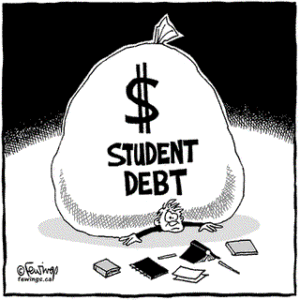 Last week I talked about several things any family can do to help themselves as they attempt to navigate the college admissions journey.
Here's the post in case you missed it.
Since that post, I've heard from a few families and, inevitably, what they are most concerned with is college costs and how to pay for them. One mom in particular asked about what private scholarships to apply for and when to start looking. It was a great question, not because I think there are a ton of difference-making scholarships out there for her daughter, (or for any student, to be honest) but because it paints the picture of misinformation that parents are operating under.
You see, while you can invest time in searching for private scholarships, the likelihood that your son or daughter is actually going to win enough money to make a difference is slim. Your chances are better if you start searching for local scholarships first but, ultimately, your time would be better off spent looking for colleges where your son or daughter would qualify for merit aid.
Merit aid is the "free" money – grants, scholarships and discounts – that a college awards to an admitted student without regard to their financial need. Merit aid is often renewable money while private scholarships are typically one year awards and, the more competitive a student's grades and test scores are, the more merit aid they can qualify for.
Knowing that private colleges, as a whole, discount about 50%, a competitive student admitted to a college that charges $40,000 for tuition and fees (room and board is extra) could expect to receive upwards of $20,000 in merit money. By competitive, I'm talking about students whose grades and test scores fall into the top 25% of who a college admits. You can rather easily find this information by looking up a school on the College Board's Big Future website and then plugging in your grades and SAT scores under the Applying tab.
Considering that the average private scholarship is less than $3,000, don't you think it makes more sense to look for merit money?
Me too.
Want some help navigating the college admissions journey? Give me a call now at 203.525.4096 or email me at eric@doblercollegeconsulting.com to schedule a FREE consultation to discuss your college counseling needs.
---
Want Great College Advice Delivered Monthly?
Sign Up Here For The Dobler College Consulting Newsletter!