Dobler College Consulting Welcomes New Partner Lynne Bossart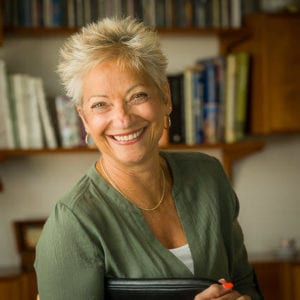 Dobler College Consulting is excited to announce that independent college advisor Lynne Bossart has joined the practice. "I have known Eric for a long time and have a great deal of respect for him and his work. We share the same philosophy and goals, so joining his team was a perfect fit for me," said Lynne, who will be responsible for working with high school students and their families locally here in Connecticut and around the country.
"I am thrilled to have Lynne join me as a partner at Dobler College Consulting. Her enthusiasm for working with high school students, especially her interest in students of the visual and performing arts, made her an easy choice to join my practice. She is passionate about education and college access, is involved in the community at large, and embodies DCC's core values," says Dobler College Consulting founder Eric Dobler. "DCC is growing and having Lynne on board will enable us to help even more students achieve their post-secondary goals through informed guidance and counseling. I could not be more excited to have her on my team."
Lynne brings from her practice, Muse College Consulting, over seven years of experience in advising and counseling and high school students. After a career in office administration, she decided to pursue her passion for helping young people realize their potential through higher education. As the parent of two college graduates, she has experienced first-hand what an overwhelming task the college admissions process can be for both students and their parents, and works closely with families to make the transition as stress-free as possible.
You can reach Lynne at lynne@doblercollegeconsulting.com or 860.408.6419 to schedule a free college planning consultation.
---
Helping Students Find Their Future
Want to know how to find the right college?
With over 2,000 degree-granting colleges in the U.S., finding the ones that fit your student's academic goals, priorities and interests can be exhausting. Do you know where to start?
Confused about the application process?

 
Trying to figure out what colleges are looking for and what makes your student a competitive applicant can be tough. There is a college for everyone. In fact, there are many more than just one. We take this approach with every student and teach them how to find colleges that fit them academically, socially & financially.
Would you like to reduce your college costs by thousands of dollars?
Our students earn an average of nearly $20,000 per merit scholarship and with costs increasing over 400% since the early 80's, finding ways to pay for college has never been more critical. We'll show you and your student how to assess colleges in terms of scholarship potential and will teach you how to compare the true costs of different colleges so you can determine which ones are the best financial fit.
Want to do something about all of this?
Contact us today to schedule your FREE consultation. We customize our college counseling services to fit your family's needs because every student deserves a chance to find their future!
---
Want Great College Advice Delivered Monthly? Sign Up Here For The Dobler College Consulting Newsletter!