Remember Who Is Applying To College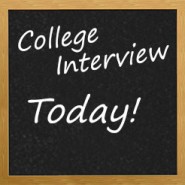 As high school juniors start visiting college campuses this spring, it's a great idea for them to request an optional interview at schools where they have a strong interest in attending. This is especially important if they feel that they may not meet the admission requirements and are worried about their chances. By requesting and completing an interview they now have the opportunity to not only demonstrate their interest and possibly meet the person who might be reviewing their application but they may also be able to secure some suggestions on how they might strengthen their application. The bottom line here is that an interview can produce so many positive outcomes.
Having said that, I hope you made note of the fact that I refer to them, they and their and not you.
As a former admissions counselor, I used to get so frustrated when parents did the legwork for their son or daughter. Whether it is meeting an admissions counselor at a college fair or calling the admissions office for information or to schedule a visit, I can't stress enough just how important it is for the student to take the initiative to ask the questions him- or herself.
Going to college is the beginning of so many journeys in your son or daughter's life. They will be learning so much about who they are, what they value, who they want to surround themselves with and where they want to go in their lives. And all of this starts with those first tentative steps at a college fair, in an interview or on a campus tour. But it has to start with them.
Recently, I chatted with Donna DeCarlo, a very good friend who is now an admissions counselor at Central Connecticut State University. We were talking about this very topic and I asked her if there was any one recommendation she could offer for students on how to make the most of their interviews. Here's what she said:
"I believe the interview really is giving the student an opportunity to make their case as to why they should be admitted to CCSU – a chance to really give me insight as to who they are and what they can bring to our campus. It is so much better if the student takes ownership of their information; after all, they are the one seeking admission- NOT mom or dad. When a parent comes along for the interview and takes over the conversation, this is particularly frustrating – especially if the student who is interviewing is a borderline student."
So parents, be willing to take a step back before you pick up the phone to schedule that interview. Instead, if you want to help, write down the number and have your son or daughter make the call. When they go for the interview, elect to wait in the lobby until the counselor invites you in. By doing so, you will be teaching them valuable lessons about responsibility and initiative and, in the long run, when they have to resolve issues at school, you will have already shown them that they are capable of speaking up and advocating for themselves.
If you have any thoughts or perspective on just how involved parents should be in the college application process, please use the comment section below.
You can also email me directly at eric@doblercollegeconsulting.com.
Eric Dobler is the president and founder of Dobler College Consulting. Follow him on Twitter.
Want Great College Advice Delivered Monthly?
Sign Up Here For The Dobler College Consulting Newsletter!